Our
Facilities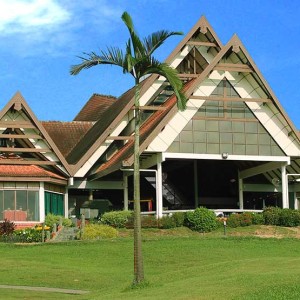 Resort
Our INDAH PURI GOLF RESORT is ideally located on the north-west coast of Batam Island, is a prestigious 300 acre development that is just seven minutes from the Sekupang ferry terminal and a mere 40 minutes from Singapore's Harbourfront Ferry Terminal.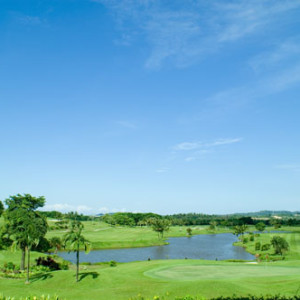 The Course
Nestled amidst luscious greenery and ringed by azure blue waters, the setting of our Golf course is just picture perfect. The course is designed by world renowned golf architect Ronald Fream to the most exacting international standards of play. Each of the 18 holes of the championship course is distinctive and individual with its own special character for added challenge. It has 18 superb greens and fairways that hug one of the most beautiful terrains on Batam Island. Running parallel with the beach one moment, dog-legging scenic lakes and bunkers the next, spreading over 80 hectares of manicured landscape.
*Closed every Tuesday for golf course maintenance except if it falls on Batam or Singapore Public Holiday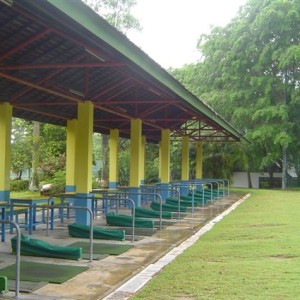 The Driving Range
Click here for reservation
Need to loosen up before your tee off? Perhaps you could opt for hitting a few balls at our driving range or take a little time to practice a few winning putts on our putting green.
Driving range operating hours: Mon, Wed, Thurs, Fri, Sat, Sun: 8am – 6pm
*Closed every Tuesday
Rates for 50pcs range balls: S$2.00 on weekdays / S$3.00 on weekends & PH
*Rate is subject to change without prior notice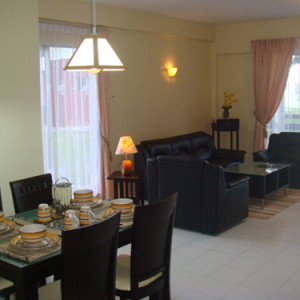 Accommodations
Click here for inquiry
Indulge your golf desires even further when you choose to stay at one of our resort-style private apartment sited within the sprawling acreage of the Indah Puri Golf Resort. Where you wake up to picture views of the Golf course and the spectacular Singapore skyline sitting majestically on the horizon and where cool sea breezes gently rustle coconut trees and bougainvilleas.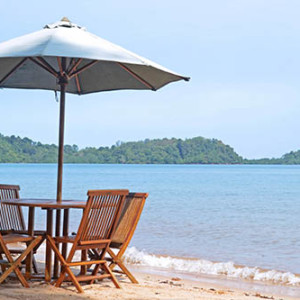 Off-Course Activities
Click here for inquiry
If you are looking for a place to hold company or group retreats, meetings, corporate or team building seminars, weddings, birthday and private events, look no further! With our range of well-equipped function rooms and spacious resort, we offer you a wonderful experience in a charming ambience at affordable prices.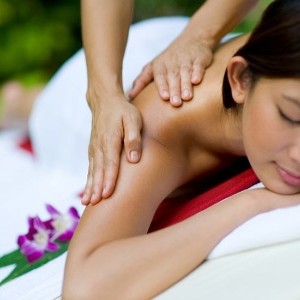 Javanese Massages
Click here to book
Try out our Traditional Javanese Massages in a quiet and relaxing atmosphere for unwinding mind and body which may ease up your tense muscle before/or after the game.
Operating hours: Open at 10am to 6pm except on Tuesday when golf course is closed.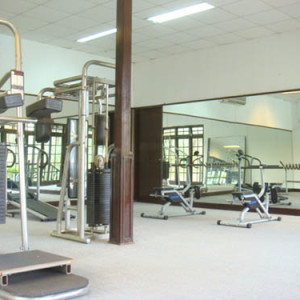 Fitness Gym
Living healthy! Try out our gym to pumps some iron in you.
For daytime use only
Opening Hours: 7am – 6pm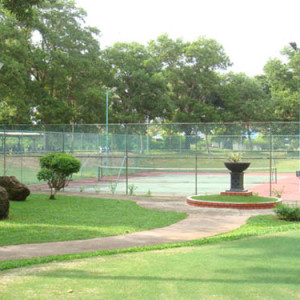 Tennis Court
Having a friendly game of tennis for all to enjoy would be a full fun of laughter that brings satisfaction for a short get-a-way from home.
For daytime use only. From 7am to 6pm.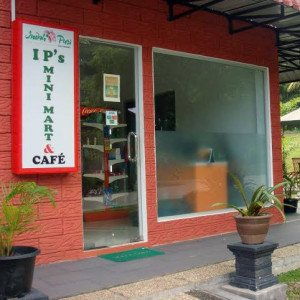 Mini Mart
Need any snacks or daily necessities? You can head now to our Clubhouse for your convenience.
Opening Hours: 8am – 4pm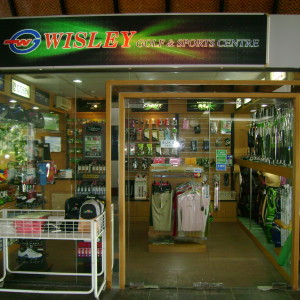 Golf Pro Shop
Our golf pro shop is here to provide you your golfing needs from golf clubs, golf shoes and others.  Rental of golf club is S$35 per set. Available in steel and graphite.  Left and right handed shaft.  Golf shoe rental is also available at S$10. ( Rates are subject to change without prior notice ).
Opening Hours: 8am – 4pm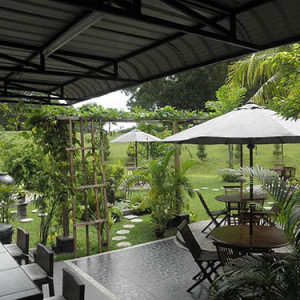 The Outdoor Bar
Located at Block 6 at the Apartment near Hole #5, here is a perfect place to cool down after a round of golf. And a beautiful garden scenery for apartment owners and guests to relax anytime of the day.
Opening Hours:  4pm – 7pm (may ask Reception to open early and extend closing hours on groups with advance booking)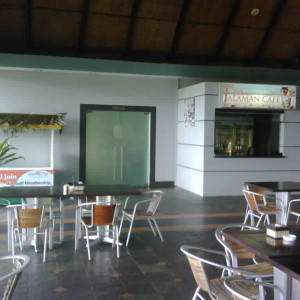 The Alaman Cafe and Resto
Click here for inquiry
Indulge in a feast at our Alaman Café & Resto. Dig in to a sumptuous spread of tantalising dishes such as chicken satay, nasi kuning and chicken rice. We also offer variety of choices from Japanese to Western cuisine. Come by and enjoy a delectable dining experience.
Opening Hours: 6am – 7pm (last order at 6:30pm)
Subscribe to Newsletter
About the Course
Indah Puri Golf Resort in Batam shares the same pedigree as Singapore's Tanah Merah and Sentosa Serapong courses and is created by world renowned golf architects Ronald Fream Design Group. Covering 300 acres of stunning scenery and no matter what your level of play is the challenging design will always brings out the best in your game.
Contact Us
(62) 778 323702/3

(62) 778 323 720

+65 9191 3958

Clubhouse Address:
Jln Ir Sutami, Patam Lestari 29422
Sekupang, Batam, Indonesia

Singapore Office:
1 Maritime Square #10-30A,
Harbourfront Centre, Singapore 099253